Although pandemic restrictions have eased in many parts of the world, most consumers are still making online purchases, as COVID-19 reshaped buying behavior permanently. In fact, eMarketer predicts that worldwide e-commerce sales will surpass $7 trillion by 2025, and according to a March 2022 report by Clarus Commerce, 84% of US consumers will do some or all of their Mother's Day shopping online.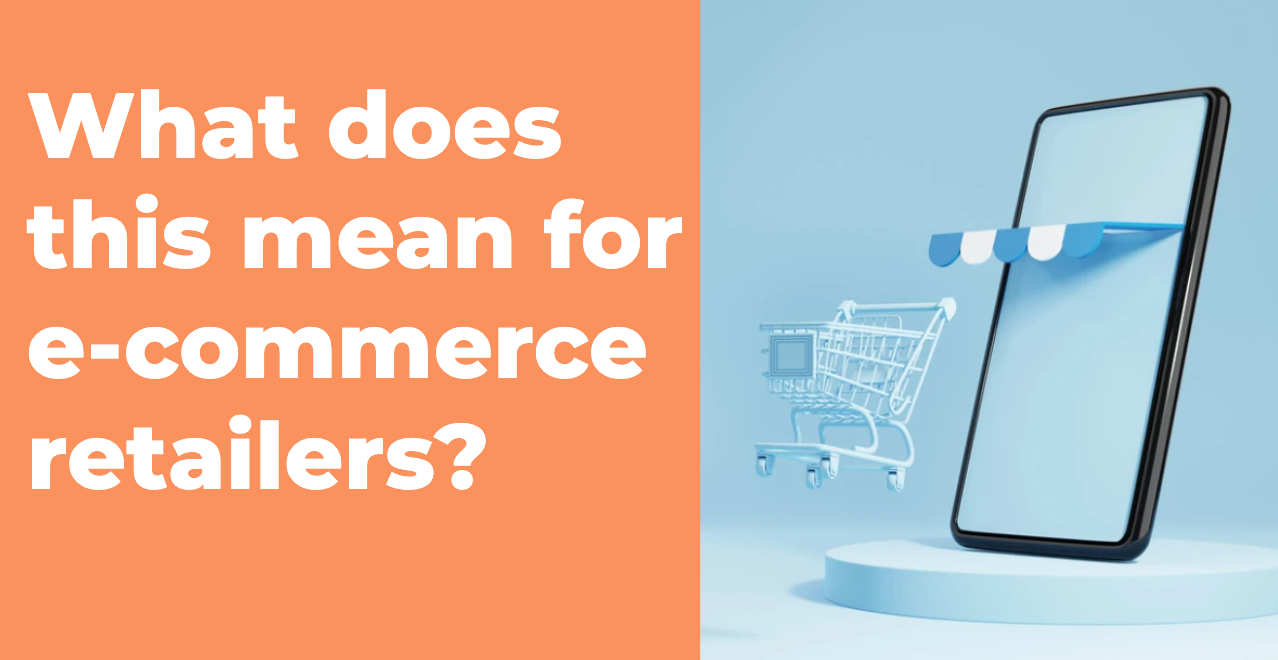 You should expect (and prepare) for more online shopping surges, particularly during gift-giving holidays like Mother's Day (May 8th) and Father's Day (June 19th), and even graduation season. Not only will consumers be surfing the web to find gifts but they will also be more likely to engage with your brand.
Here are the top ways you can prepare your e-commerce store for success:
1. Curate Special Product Collections To Promote
Whether you choose to offer discounts or not, you can help your customers find gifts more easily by offering bundles or collections specifically for seasonal sales. Consider creating gift baskets or product packs to sell multiple items at once and move inventory faster. For inspiration, visit websites by established retailers like Anthropologie, Nordstrom, and Uncommon Goods, each of which always showcase large, curated selections of gifts around holidays.
Remember that there are hundreds of different recipient and gift-giver types–from grandparents to dog parents and a variety of personas associated with each, so the more collections you curate and organize by price, persona, and category, the more they will appeal to your target customer base.
2. Create Content Related to the Specific Day
Content is one of the most effective ways to draw traffic to your online store and allows brands to further deepen their relationships with customers. Content must be engaging, however, and not too salesy.
Think about what type of content might be the most attractive to your customers around a certain holiday. Graduates (or their family members), for example, may want tips about how to organize a dorm room or how to throw the best farewell party. Mother's Day content, in contrast, may be more about how to build memories with the special woman in your life. Lifestyle brand Karma and Luck published an insightful blog post featuring various exciting ways to celebrate mom, including exploring nature walks and gifting a manifestation journal. Visitors are also invited to shop the brand's Mother's Day collection directly from the article, creating a seamless customer journey from content to shopping.
Once you've created valuable content for your target audience, you can then promote it across your social channels and target specific audience segments to have a bigger impact on your web traffic.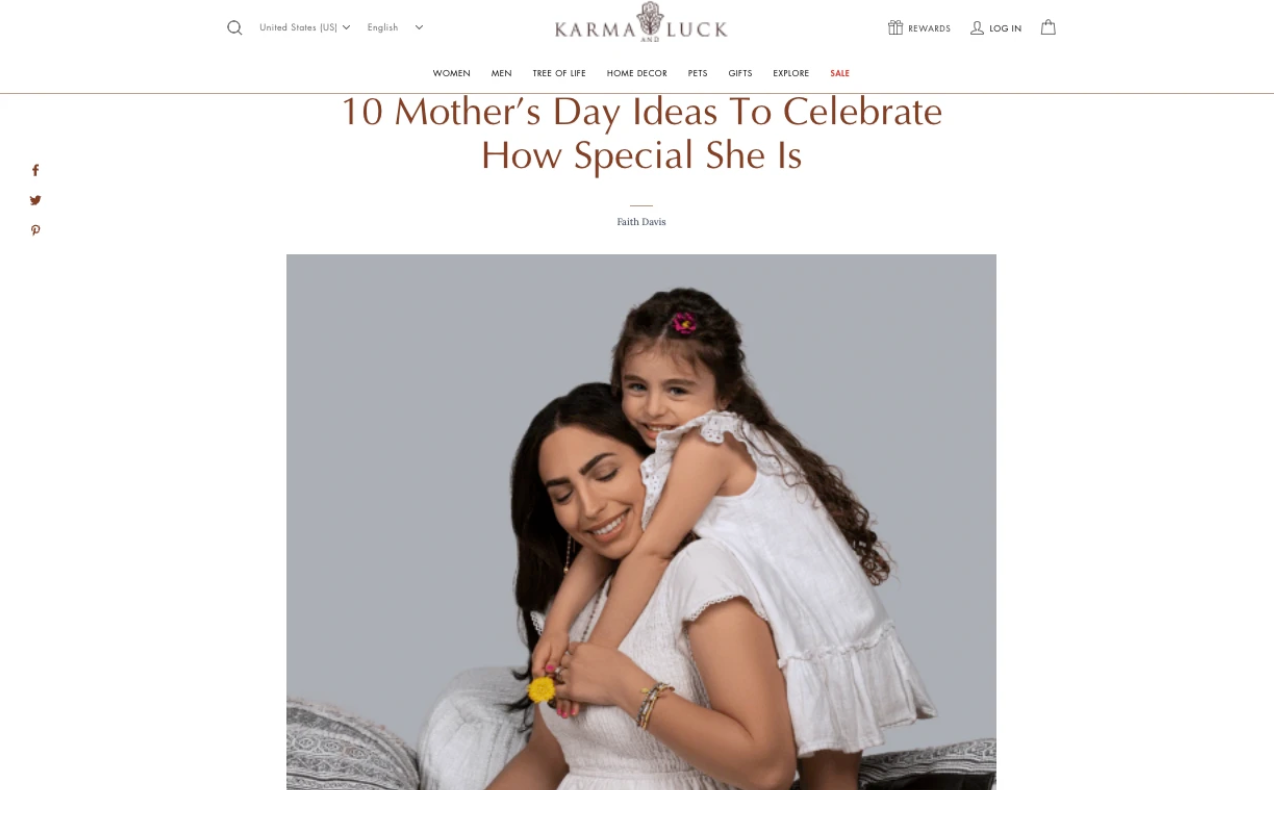 3. Try "Gift Matching" With Interactive Product Recommendations
Finding the perfect gift for a relative, friend, colleague, or partner can be a challenge. Factors like budget constraints and who they're buying for play a part and more often than not, the gift giver isn't quite sure what to buy. This results in consumers searching through a huge amount of web content and likely still not finding what they need. Interactive gift guides can alleviate this monotony, convert website visitors into paying customers faster, and drive more sales.
By asking consumers a series of questions, these product matching experiences allow you to showcase specific products to different audience segments, inspire shoppers, and engage customers beyond pesky chatbots. Consumers are more likely to purchase whatever product is presented at the end of the experience because psychologically, they feel as if they've personally chosen the gift, since results are based on their answers.
This worked well for jewelry retailer ALEX AND ANI, as the company doubled their revenue and increased the average order value after implementing an EX.CO product matching experience.
4. Remember That Personalization Goes A Long Way
We all know how much people love to receive personalized gifts. From monogrammed items to customized engravings, one-of-a-kind gifts are always considered to be special.
And as marketers, we also know how personalized emails and subject lines to customer segments drive open rates and CTRs. Consumers want it, expect it, and will look elsewhere if they receive something that is not relevant to them.
So, why aren't brands also personalizing their websites? Historically, it's been difficult to do so. Building unique landing pages can help but if the rise of abandoned carts tells us anything, it's that consumers are still indecisive about purchasing.
Creating personalized experiences such as polls or surveys on every page of your website can draw in visitors with engaging content to dramatically enhance the online shopping experience. These types of interactive experiences also allow you to monitor consumer behavior and collect zero-party data for future personalization like hyper-targeted emails or promotions. With EX.CO, you can choose from hundreds of different templatized experiences that help e-commerce businesses achieve specific goals.
5. Increase Email Subscribers By Engaging Your Visitors
Holidays like Mother's Day, Father's Day, and graduation season are huge opportunities for you to expand your email subscriber list and ultimately land new customers. By adding an overpage or in-page unit to multiple web pages that garner the highest amount of traffic, you can speak directly to your customers and request email addresses. Tie in a sweepstakes or discount code to the experience and your chances of collecting information will increase.
Regardless of whether or not you have a compelling incentive to offer, you can still engage customers with a survey, poll, or trivia game to entice participation. For example, an online store that sells athletic apparel might prompt visitors for their opinions about the winner of an upcoming tennis match. After visitors engage with the questions, they may be asked to provide an email address to receive the retailer's newsletter and because they just had a personal interaction with the brand, the visitor may be more inclined to provide such information.
Ready to prepare your site for ultimate success?