Ever since Buzzfeed launched its viral branded quizzes, marketers have been looking for ways to reimagine their seasonal marketing.

Major holidays remain one of the few go-to opportunities for breaking through the cultural noise. And despite the slow, cautious start to 2022 (thanks, Omicron), this year's Valentine's Day is poised to be among the biggest yet, with online leading the way as the most popular shopping destination.

With over $20 billion in expected Valentine's Day sales this year, retailers are catering not only to gifts for loved ones, but also consumers who want to treat themselves to an indulgent treat or far-flung getaway in an act of self-love.

For e-commerce marketers, there's no shortage of ways to spark engagement and increase sales this holiday season. Here are a few ideas to help you get started quickly.
1. Drive traffic with a flash sale campaign
Crafting a timely promotion, such as a Valentine's Day flash sale, is a time-tested method to create a sense of urgency or scarcity, spurring your prospective customers to act. Such a hook is also table stakes for earning attention across busy newsfeeds and inboxes.

Your campaign ads can appeal to a variety of holiday-themed impulses. You can promote customizable gifts for couples, or self-care packages that lean into the "Love Thyself" mantra. You can send love to a favorite cause, as Etsy did for small businesses, or cheekily side with the rebels, as Hotels.com did with its Anti-Valentine's campaign.

Wherever and however you activate these messages, it's crucial to quickly bring prospects back to your own website, where you can start building a direct relationship and capture the greatest value from each purchase.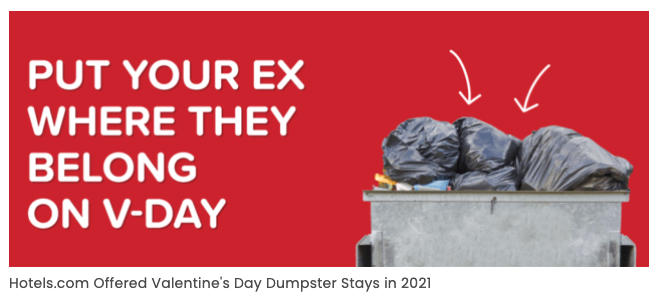 2. Create personalized product recommendations
Contrary to the "freedom of choice" adage, it's often fewer, higher-quality choices that consumers are looking for when shopping online.
In addition to ensuring your UX is smooth and product copy is crisp, think about creative ways to help people discover the perfect gift they never knew existed.
Customer-obsessed brands such as American Express use product recommendation quizzes to replicate the experience of an in-store consultation or traditional holiday gift guide. Through a series of multiple-choice questions, consumers can self-direct themselves to a personalized shopping view, where they are nearly 3x more likely to convert.
Jewelry and home decor brand Karma and Luck just launched a customized Valentine's Day product matching experience, powered by EX.CO. The interactive experience walks online customers through a series of questions before recommending the best possible gift for consideration based on the responses collected. EX.CO's product matching experiences are proven to yield significant hikes in conversions, order values, and revenue.
Perhaps most importantly, such solutions enable brands to collect higher-value data on what in-market consumers are actually looking for and what product attributes they value most—whether that's a particular color or style bracelet, or an entire trending category, like hot sauce or personalized face cushions.
3

.

Infuse interactive across your website
Beyond product recommendations, there are countless turn-key formats that marketers can use to weave interactivity throughout the buyer journey.

You can run opinion polls, test audiences' trivia knowledge, and gamify data collection. Ford recently challenged car buyers with a reverse-quiz: "Can we guess which color car you drive?" Time and again, Nielsen studies show that interactive content unlocks extraordinary gains. In fact, Nielsen found that EX.CO-powered interactive content drives 7x more purchase intent and a 91% brand lift compared to the industry standard.

These next-gen formats are particularly appealing to younger shoppers, who increasingly expect a personalized experience, as well as the ease and gloss of their favorite social or streaming platforms.

Arguably the greatest interactive unlock for e-commerce marketers in recent years has been the automated chatbot, which matches every web visitor with a concierge-like experience. But brands need to do this well lest it backfires, preloading each AI-assistant with friendly cues and personalized touches that feel genuine rather than robotic. Humanizing the customer journey is key. Rather than a chatbot, invite your customers to interact with content that will emulate the experience they may likely have in a brick and mortar store.
4. Retarget shoppers through personalized email
Consumers won't always be ready to buy, even if they are greeted with a first-class experience. In that case, collecting some kind of contact information can mean the difference between hitting your sales goals or sacrificing thousands (if not millions) in lost orders.

With growing data privacy concerns, earning this trust from consumers requires a thoughtful approach, and even a minor tweak in how brands approach this call-to-action can result in major uplifts of up to 10%.

For example, an overlay element that begins by asking a basic question about favorite beauty routines, or historical trivia on Cupid's origin story, can pique someone's interest and improve their likelihood of providing an email address.
Once you've established a line of communication, retargeting over email or digital offers is a hyper-efficient way of driving sales. But you want to make sure these communications are targeted, value-led, and somewhat infrequent (to avoid burnout).
A good place to start includes referring to specific products left in an online cart or limited-sale items related to a shopper's recent browsing history.
5. Use data to optimize and maximize ROI
Getting your Valentine's Day ads and web content up and running is only the first stage in making your overall holiday campaign a success. Next, you want to leverage the data you're collecting to continuously improve your strategy, especially given the narrow time constraints of selling around a specific holiday.

Evaluate the conversion rates across your various acquisition channels and re-allocate more promotion dollars towards those that are performing well. Leverage the first-party data you've collected to create real-time, dynamic segmentation of your buyers as they click around your site.

Time and again, well-executed personalization proves to be the magic that sets brands apart—and it can help your e-commerce brand win over hearts (and wallets) this Valentine's Day season.
Launch no-code interactions that grow your sales.

As you finalize your holiday campaign strategy, drop a note to info@ex.co to learn how we can help you launch custom interactive experiences across your site for every stage of the sales funnel.

Ready to discover all the solutions EX.CO has to offer?