We all know that ad tech is an ever-changing market, and it can be difficult to keep up with the latest trends. And with ad tech growth projected to increase from $438 billion in 2021 to $1 trillion in 2030, it won't be slowing down anytime soon. As digital publishers and advertisers, understanding ad tech is essential if you want to drive your monetization strategies and maximize your ROI on campaigns. In this post, we'll take a closer look at some of the things that don't make sense about ad tech and shed some light on the unknowns.
1. All those darn acronyms
From SSP to AVOD, PII, CPC, VCR, ROAS, SPO, and beyond - our industry is full of an obscene amount of acronyms, and if you're like me, it feels like there's a new acronym to learn every week. Do you know what a CMP is? Me either. FYI, it's apparently a consent management platform but also a creative management platform. There are so many acronyms, in fact, that many ad tech companies have published glossaries of terms for industry newbies to learn from.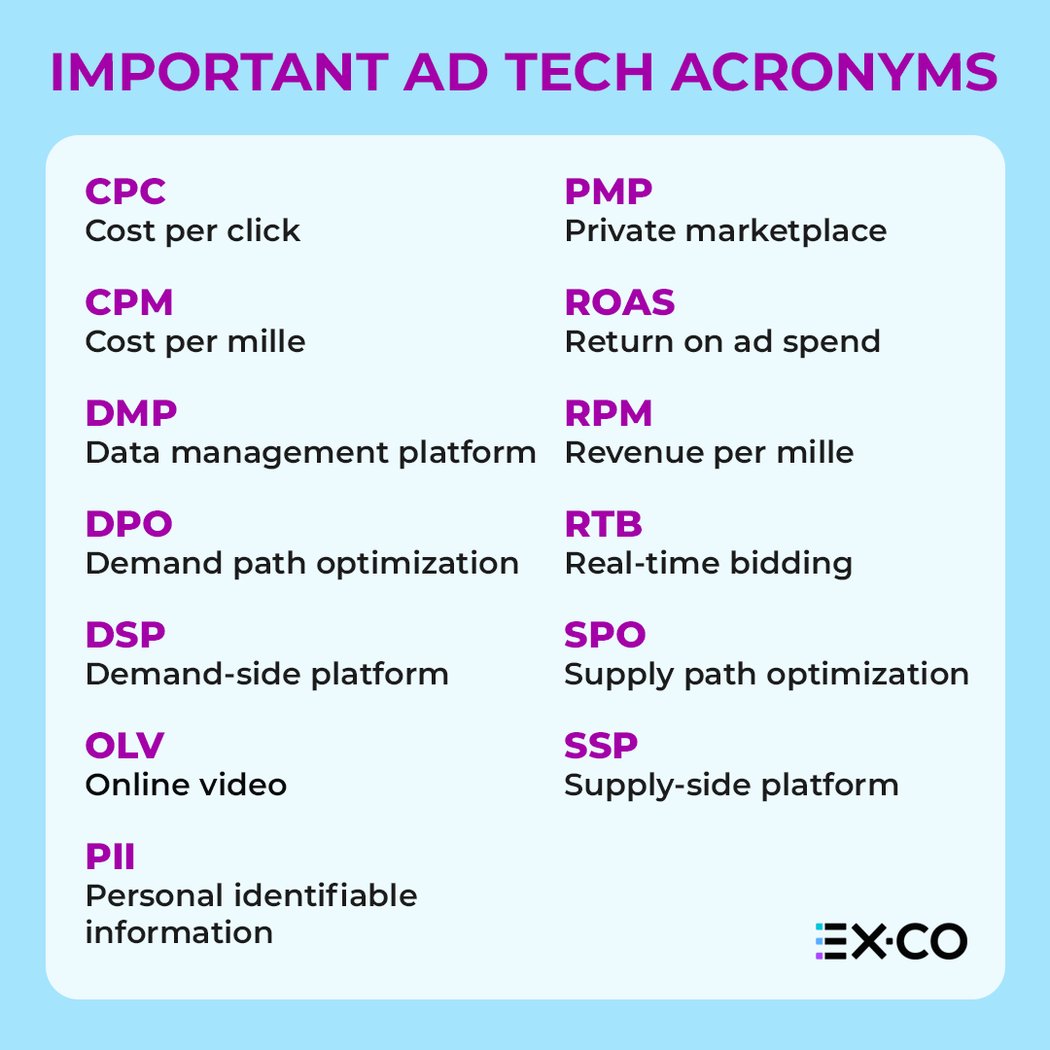 2. How it all works (under the hood)
Believe it or not, many people who work in ad tech today don't fully understand how it all works, and that's because it's really complicated. The technological infrastructure of ad tech is built primarily around the act of buying and selling media, but tons of tech companies help streamline the process, particularly for programmatic. There are trading desks, exchanges, ad networks, supply-side platforms, ad servers, and the list goes on and on.
Buying and selling transactions can happen either in auction environments or as direct deals, but when trying to understand how ad tech works, it's important to know what these two groups of companies are most interested in:
The demand side

(advertisers, brands, and agencies) wants to reach their target audience in the most efficient way possible. As you probably suspect, they are most interested in processes and technologies that help them target specific consumers, measure performance, optimize campaigns, and earn the highest return on investment (ROI).

The supply side

(publishers, media owners) wishes to generate revenue by

monetizing

their content. These companies have the ad space (or inventory, think

display and video

) to sell to media buyers. Ad tech allows suppliers to best manage their inventory, report on engagement, collect data, and

meet the requirements of the demand side

.
3. Nonsensical ads
Ever seen an ad that sticks out like a sore thumb? Yep, me too. When ads aren't personalized and are irrelevant to the consumer, they feel intrusive, which is the exact opposite of what publishers and advertisers want. This issue typically happens when ads are placed on pages that don't match their target audience. One way of alleviating this problem is by leveraging contextual or behavioral technologies that use complex algorithms to tap into AI-driven and browsing behavior, respectively.
4. Viewability metrics
Viewability refers to how visible an ad is on a website page or mobile app to users. A low viewability rate can lead to thousands of wasted dollars. After all, how much is an ad really worth if it's never seen by an audience?
The confusing part about viewability is that many technology companies have their own definitions of how to measure the viewability rate of an ad. The Interactive Advertising Bureau (IAB) and Media Ratings Council (MRC) both define viewability as "at least 50% of a video ad's pixels must appear on-screen for at least 2 consecutive seconds."
If a tech firm or demand-side company touts a higher "viewable RPM," or vRPM, make sure you ask to see the math because this metric typically leaves out the money lost from non-viewable impressions. For more information on viewability conundrums, check out our blog post entitled, "Busting the Biggest Ad Viewability Myths For Publishers," or download our ebook about how publishers can maximize their ad revenue by understanding viewability.
5. Multiple middlemen
It's no secret that there are a lot of intermediaries within the ad tech ecosystem. This fact makes it difficult to track exactly where advertising dollars are going and who ultimately benefits from them.
One way publishers can ensure their inventory sells via sellers they have identified and authorized is through authorized digital sellers, otherwise known as ads.txt, which is an IAB Tech Lab initiative that helps increase transparency within the supply chain. When publishers make their ads.txt file accessible by posting it to their domain, it prevents fraudulent transactions and cuts out the bad players hoping to sell counterfeit inventory to media buyers.
Similarly, the IAB Tech Lab also released sellers.json, a mechanism that allows media buyers to discover and identify any intermediaries that participated in the selling of a bid request, including the final seller.
Last but certainly not least, demand path optimization (DPO) and supply path optimization (SPO) are strategies used to streamline the media buying/selling processes. These techniques reduce wasted dollars, increase transparency, and help prevent data leakage. EX.CO is a big supporter of SPO, as our comprehensive video platform offers a complete tech stack to publishers and allows them to trim other vendors that may offer redundant solutions.
At first glance, ad tech can seem like a bewildering maze of jargon and complicated systems – but understanding it is essential for any digital publisher or advertiser who wants to get the most out of their business strategies. By staying up-to-date with the latest trends in advertising technology, you can ensure that your monetization efforts are fully optimized and/or your campaigns are reaching their intended audiences while keeping user data safe and secure.
Want to make more sense of your video strategies?